My Wife and I are proud parents of two Boston Terriers, Stella and Lucy.We would do anything for her and her sister.  Stella has been diagnosed with a very painful condition called Patella Luxation, which means her knee caps don't stay in the place where they are supposed to.
 Stella has a severe case, which means that her knee caps are not in the correct spot most of the time, they are off to the side. Because of her condition she cannot jump or play without pain, and there is a high risk of tearing to the tendons in her knee and chronic arthritis.
 The operation to fix Stella's knees must be performed by a veterinary Orthopedist, and it is extremely expensive: $3000 per knee. Stella has the condition in both her knees so 6000. +
 This condition is common in Boston Terriers. Some have it and are fine their whole lives. Stella is not so lucky and being only a year and a half old the operation is a must.  Stella has a long future of jumping and running ahead of her – if she receives treatment for her luxating patellas.
 To raise money for the surgery I am going to auction off a couple of paintings of  Stella and Lucy on Ebay. Below is the first. Here is the link "Stella Fundraiser"
(12×8″ oil on panel. This portrait is of Stella at 8 months old.)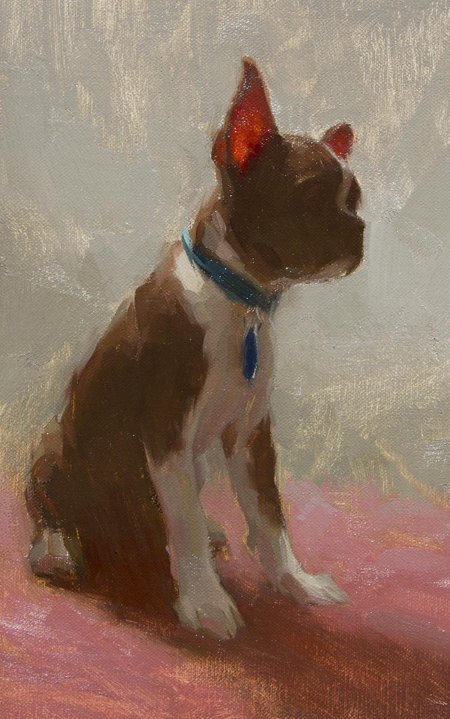 If you would like to help but do not want to bid on a painting I have a donate button below.
 (Any money raised past the cost of her surgery will be donated to Boston Terrier rescue group.)
 Please help – bid on her portrait and spread the word!